Celebrating the Feast of the Assumption with Fr. Manoling Francisco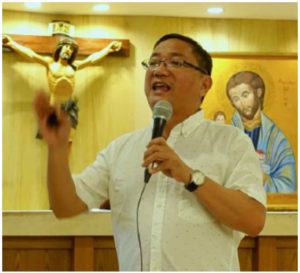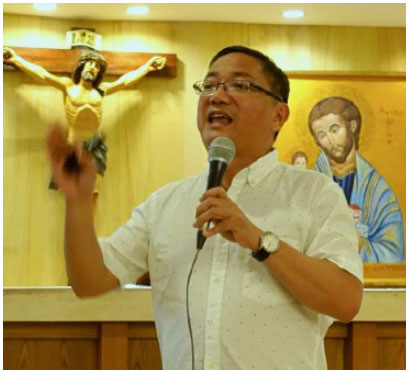 The Diwanihan Kristiyano Prayer Group sponsored the August 15 holy mass on the feast of the Assumption of Our Blessed Mother, at the Divine Mercy Chapel. The 8 pm mass was officiated by Fr. Manoling Francisco SJ who then gave a short talk on the Assumption.
To recall, CTK celebrated Triduum masses in honor of the Assumption of the Blessed Virgin Mary last August 12, 13 and 14, with the Vigil Mass held on August 14, 6 pm. The Catholic world celebrated the Solemnity of the Assumption of the Blessed Virgin Mary on August 15.
Fr. Manoling first defined 'dogma' as a revealed truth, and for Catholics, a required belief. One such was on November 1, 1950 when Pope Pius XII, exercising papal infallibility, declared in Munificentissimus Deus that it is a dogma of the Church that ' the Immaculate Mother of God, the ever Virgin Mary, having completed the course of her earthly life, was assumed body and soul into heavenly glory'. The Assumption of the Blessed Virgin Mary is therefore a required belief.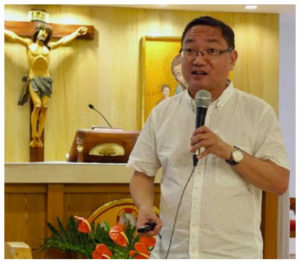 Fr. Manoling then went on to explain the duality of the human being as postulated by the Greeks, where an immortal soul was inside a mortal physical vessel, the human body. To make it easier to understand, instead of the 'soul', Fr. Manoling likens the soul to the person inside each of us. We may be a short, squat, big eyed chubby baby at 3 years old, we may be a tall gangling awkward pimply teenager at 13, we may be a more self-assured athletic well-toned young man at 23, then a slightly paunchy eyeglass-wearing slightly-balding family man at 33, then an even heavier, fully bald, slightly stooping middle aged man at 43. Yet it's still the same person. It's that person, the 'I', which Fr. Manoling likens to the soul.
He also explained that on the Last Day, each soul will be reunited with God, with the glorified body, and with the rest of humanity. Which means we will recognize one another – and here Fr. Manoling segued into Eric Clapton's haunting lyrics: 'Would you know my name if I saw you in heaven? Would it be the same if I saw you in heaven?' which was written after he lost his four year old son in a freak fall from the 53rd floor of the unit of his mother in a high-rise residential building. The answer to Eric Clapton's question is a definite 'yes', Fr.
Manoling emphasized.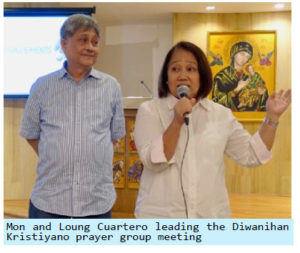 He then went to the main point of his talk – that Mary is the icon of man's ultimate destiny. And in Mary's Assumption, God has also offered to man eternal life. That on the Last Day, we will have eternal communion with God, with humanity, and with all creation. Fr. Manoling ended with the prayer –
"The Lord is my light and my salvation I am sure I shall see the Lord's goodness in the land of the living. Hope in Him, hold firm and take heart. Hope in the Lord."