Fr. Raymond's 25th Sacerdotal Anniversary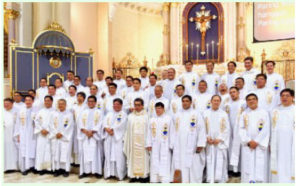 Fr. Raymond Joseph L. Arre, one of CTK's regular guest priests, celebrated his 25th Sacerdotal Anniversary, or priesthood silver jubilee, last July 3 at the Immaculate Conception Cathedral. Fr. Raymond is also the Episcopal Vicar For Catholic Schools, Superintendent of the Diocese of Cubao Educational System, and School Director of the Immaculate Conception Cathedral School.
In his address to the congregation at the end of the mass, he thanked his fellow Cubao Diocese priests – which included Msgr. Antonio Mortillero and Fr. Serge Maniba representing CTK – for their friendship and support. He recalled how he was ordained by Jaime Cardinal L. Sin DD on July 3, 1992 and what the cardinal advised him – 'reflect on the cold marble floor that you prostrate yourself on; there will be occasions when your parishioners will also seem cold and distant; but never forget that where there is cold, there is warmth as well.' He also read aloud a congratulatory letter from Archbishop Soc Villegas with whom he worked at the EDSA Shrine, or Mary, Queen of Peace Parish.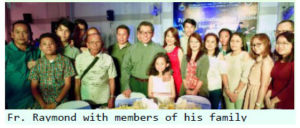 The sacerdotal mass celebration, attended by most of the priests of the diocese, was followed by a reception and program at the Immaculate Conception School covered gym. There were two testimonials delivered, by parishioners from the two parishes he previously headed – Church of the Holy Sacrifice (better known as the UP Diliman chapel) and Resurrection of the Lord Parish in Del Monte, QC. The gatherers were treated to audio-visual presentations that showed the clergy side of the celebrant as well as the human side – as family member, as traveler, as adventurer, and as a biker.