Interview-Visit by Xavier High School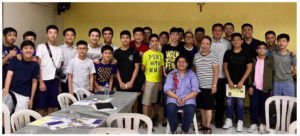 The Chairperson of the Christian Life Education (CLE) Department of Xavier School, Ronald Demegillo, and the Xavier High School principal, Aimee Apolinario, co-requested for an interview with Fr. Bong Tupino by Xavier students about the parish and parish life.
Interview questions included:
– How is the parish organized? Who are the key people and their roles?
– How involved are the young people in parish activities? How many participate in the Holy Eucharist?
– What activities are appreciated and enjoyed by the parish youth? In what areas do they need help? What are the reasons for lack of involvement?
– What parish programs address the youth? How do you encourage participation?
– What messages do you want to convey to the young people?
Fr. Bong asked Parish Pastoral Council Lay Coordinator Bert Santos to take his place. The interview was held last Sunday, July 16 at 10 am. Also present was Althea Geronilla, Youth Ministry Coordinator, who gave a Powerpoint presentation about the various church youth activities that the Xavier students could be involved in.