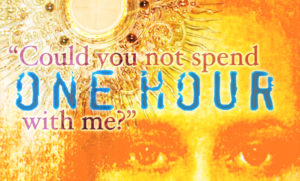 Christ had asked of St. Margaret Mary Alacoque as he had asked the apostles in the Garden of Olives: "Can you not watch one hour with me?" Jesus made it clear to St. Margaret Mary that through this devotion, He wishes His faithful friends to become partakers of that "sorrow unto death" which He willed to suffer in the Garden of Olives and to join with Him in the humble prayer which He offered to His Father at that time. He also wishes the faithful to appease His Father's anger and to ask Him to forgive all sinners.
The 'Holy Hour' made in the presence of Jesus in the Most Blessed Sacrament is a devotion in which we call to mind the Life, Passion, Death and Resurrection of Our Lord. During this hour we seek, through prayer and meditation, the mercy of God, the conversion of souls, the sanctification of sinners and the mitigation of the terrible punishment foretold at Fatima in 1917.
It is a noble and sublime deed to keep Our Eucharistic Lord company while meditating on His bitter Agony and consoling His Most Sacred Heart. This is best done at the altar where Jesus is truly present, Body, Blood, Soul and Divinity in the Holy Eucharist. In His presence we can best console Him for the negligence of men; make known our needs to Him; beg graces and favors from Him for ourselves and others; and assure Him of our undying loyalty to Him.
The First Friday Holy Hour is part of our First Friday Devotions to especially recognize the Sacred Heart of Jesus, and through it offer reparation for sins.  It begins at 5 pm every first Friday of the month, then followed by the 6pm mass at the main church. Both devotion and mass are handled by the Apostleship of Prayer, headed by Wanda Reyes.  You may contact Wanda at wtreyes@yahoo.com for more details.