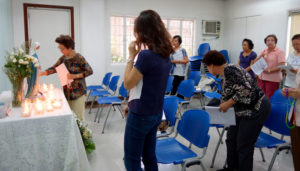 Praying 2000 Hail Marys is a very powerful intercessory prayer. The gathering prays this private devotion to Our Lady, asking her for any kind of favors, and trust that God will grant them through our Lady's powerful intercession. Combined with your faith and sincerity of heart, these are graces or intentions which our Mother Mary will intercede for you.
The full-day devotion starts with the prayer to the Holy Spirit. This is followed by the 15 Mysteries of the Most Holy Rosary. There are 20 general petitions, with each petition being read before 100 Hail Marys. Every person in the group gets to lead the prayer of a round of 100 Hail Marys. The expectation is to finish the 2,000 Hail Marys in 7 to 9 hours.
The First Saturday 2000 Hail Marys is led and coordinated by the Legion of Mary. It usually starts at 7:30 am and ends at around 4:00 pm and is held at St. John A and B Hall. The next sessions for the remainder of the year will be on October 1, November 5, and December 3.