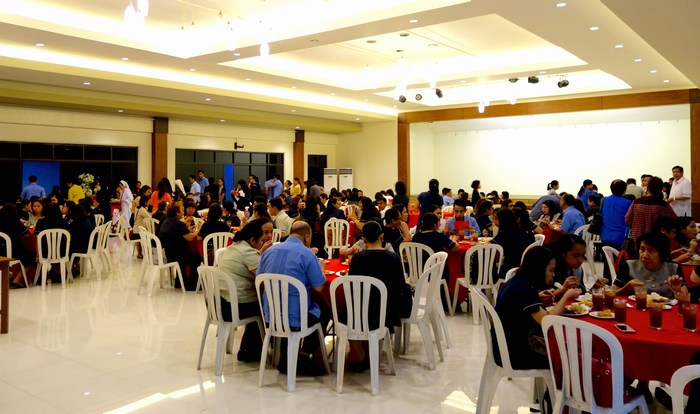 The Parish Social Hall was constructed to offer a convenient venue for wedding receptions, especially for weddings done at Christ the King Greenmeadows.
It's a huge space, capable of hosting as many as 30 tables, or 300 guests, with still enough space in the front before the stage for a dancing area. It has a very high ceiling which allows for creative swag treatments and accentuates the size of the hall.
The hall is approached from two directions: one, via stairs from the ground floor of the Formation Center; and, two, via the elevated walkway from the church (more handicapped-friendly than the stairs).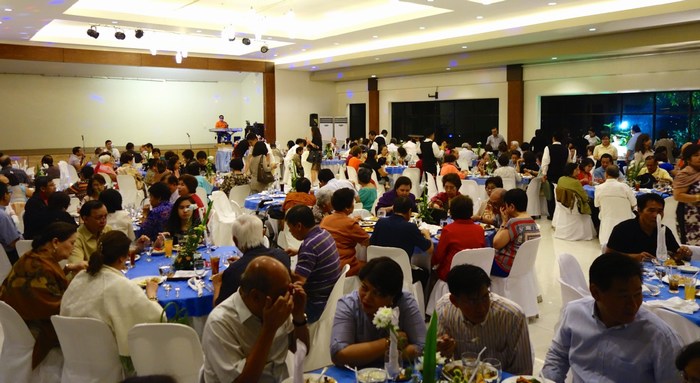 A wrap-around balcony – front of the social hall and the whole left side – creates a feeling of greater space than what is actually there. Floor-to-ceiling glass panes divide the air-conditioned interior from the wrap-around balcony area and provides the same airy sunlit theme carried over from the main church.
Opposite the stage is the elevated sound-light control room for the professional management of programmes and performances. For reservations, please contact Ms. Dodo Asuncion at tel. no. 638-4838.