Father Jose S. Tupino III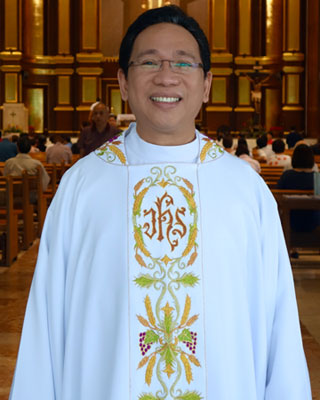 Reverend Father Jose 'Bong' S. Tupino III, S.J., is the parish priest of Christ the King Parish Greenmeadows. Which means he is the pastoral leader for the Libis community as well as the villages of White Plains, Corinthian Gardens, St. Ignatius, Acropolis, Greenmeadows 1, Greenmeadows 3, Corinthian Hills, Arcadia, and Galleria-Poveda-Crowne Plaza. Fr. Bong is also concurrently the HR Director for the Diocese of Cubao as well as Chaplain for the Catholic Women's League – Diocese of Cubao district.
Fr. Bong completed his seminary formation at San Jose Seminary and his graduate studies in Theology at the Loyola School of Theology. He was ordained as deacon on August 15, 1992  and six months later, ordained as priest on March 27, 1993 at the Manila Cathedral.
He has been the parish priest at Christ the King Parish Greenmeadows since January 2012. Prior to this, he had been parish priest at Our Lady of Pentecost Parish in Loyola Heights, from 2006 to 2012, Hearts of Jesus and Mary Parish in West Triangle, from 2002 to 2006, San Isidro Labrador Parish in Tandang Sora from 2000 to 2002, and our Lady of Peace Parish in Sucat Paranaque from 1994 to 1999.
While serving as parish priest, Fr. Bong took on other concurrent roles, such as Youth Minister for the District of PPLM, Archdiocese of Manila, from 1994 to 2003. For seven years running, from 2005 to 2012, Fr. Bong was also Vicar for Clergy and Guest Priests for the Diocese of Cubao.
He is on his second, and last, three-year term, having began at CTK in 2012 and so will finish his CTK tour of duty in 2018.
Meet our CTK guest priests: (Click names to view profiles)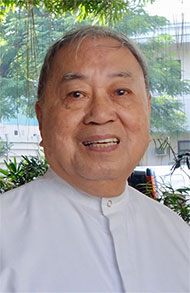 Monsignor Tony Mortillero