Sacred Heart of Jesus Recollection by AP's Baby Santos-Mendigo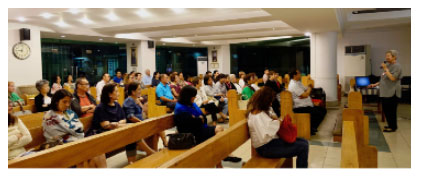 CTK hosted a recollection – Understanding the Desires of the Sacred Heart of Jesus – last June 22, Thursday, after the evening mass held to a full crowd at the Divine Mercy Chapel. The occasion was the vigil of the Solemnity of the Sacred Heart. The speaker was Ms. Andrea 'Baby' Santos- Mendigo. The talk was sponsored by CTK Apostleship of Prayer under the leadership of Wanda Reyes and approved by Fr. Bong Tupino. Ms. Mendigo began with the the revelations of Margaret Mary, of ten called the 'last grand revelation' to her confessor Fr. Claude de la Colombiere, a young Jesuit. The revelation focused on offenses to the Sacred Heart of Jesus and to the Immaculate Heart of Mary, and Jesus asking for reparation through prayer. Mendigo therefore suggested the following reflection:
What have I done in my life that have contributed to the offenses committed against the Sacred Heart of Jesus, especially in the Most Blessed Sacrament, and the Immaculate Heart of Mary? If I were Margaret Mary today, how would I react to Jesus asking for acts of reparation?
She made a plea to go to Communion first thing every morning. Why? First, the Eucharist becomes so much more meaningful because Holy Mass begins in our hearts the moment we wake up. And, our individual prayer becomes a community prayer because Holy Mass unites our prayer to the prayer of the whole Church. Because we unite ourselves to the Mass in the morning, the Holy Mass continues into our everyday activities, so that we live the Eucharist.
She further argued that the morning offering is the first act of faith of the day. The morning offering makes the whole day into prayer. This becomes the apostolic dimension of prayer. The morning offering can then continue through the day and ends with the Evening Examen.
This self-examination impels us to seek the Sacrament of Reconciliation, not so much for the sins of the past but for the grace to meet the challenges of tomorrow.
ABOUT THE SPEAKER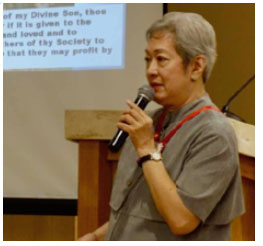 Ms. Mendigo is currently the National VP for Formation of the National Council of Apostleship of Prayer. She give talks all over the Philippines advocating devotion to the Sacred Heart of Jesus. Ms. Mendigo had been involved with CTK ever since Msgr. Mora's term – as former head of education, bulletin editor, PPC secretary, and lector (on leave). She's the current head of the Diocesan Formation Ministry, a volunteer catechist at Camp Karingal, and also the author of the Marian book – 'The Story of the Woman'. Baby Mendigo holds a doctorate in Biochemistry from the University of Utah and worked in San Francisco for 10 years. She now devotes herself full time to church activities – and also happens to be the younger sister of our Parish Pastoral Council head coordinator Bert Santos.