Fr. Steve Zabala: With Mary This Advent
Last October, I accompanied some pilgrims to the Holy Land. The itinerary included the baptismal site along the Jordan River, mount of temptation, Jericho, Caesarea Philippi, Capernaum, Nazareth, Cana, Jerusalem, Bethlehem, the Dead Sea, and Samaria.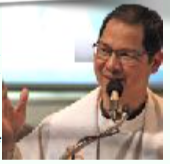 The highlight of the pilgrimage was the visit to the Church of the Sepulchre in Jerusalem and the Church of the Nativity in Bethlehem. These two sites always have the longest lines. It took us 3 hours in line at the Church of the Holy Sepulchre before we could enter the tomb of Jesus and 2 hours in the Church of the Nativity before we could touch the birth spot of our Lord, located right below the altar of the Church.
A silver star marks the exact spot of Christ's birthplace. Two staircases (entrance and exit) descend a few feet into the site where pilgrims kneel and kiss the birth spot. The spot has a Latin text 'Hic De Virgine Maria Jesus Christus Natus Est' which means 'Here Jesus Christ was born to the Virgin Mary'.
'Born to the Virgin Mary.' With this statement, I suddenly realized that the Virgin Mary can guide us in our Advent preparation. While John the Baptist was officially appointed to prepare for the coming of the Messiah, Mary has done the most immediate preparation – offering her womb as the Qirst home of the baby Jesus for his first nine months on earth, finding a place to give birth to the child, taking him to safety when Herod ordered all babies two years and below to be killed, bringing him to the temple, finding him there when he got lost and doing all her motherly duties to the baby such as feeding him, clothing him, cleaning him, making sure he grows up safe and healthy.
Advent Preparations
Every year, the liturgical calendar of the Church begins with the season of Advent. Advent is a preparation for Christmas, beginning four Sundays before Christmas and ending on Christmas eve.
Advent comes from the Latin word 'adventus', which means 'coming'. The coming of Christ is understood in two senses. first, Christmas is a remembrance of the first coming of Christ – his coming in the flesh, when he was born in a manger in the town of Bethlehem, 2000 years ago; a celebration of God becoming a human being in the person of his only son, Jesus Christ. Second, Advent is a time when our 'minds and hearts are led to look forward to Christ's Second Coming at the end of time' (Ordo).
Christmas has a more festive character. The Philippines is regarded as celebrating the longest Christmas. When the 'ber' months begin (September to December), Christmas decor and songs start to appear in the malls. Thus, the Advent season is characterized by parties, shopping, gift giving, raffles, games and houses brightened up by Christmas lights, lanterns and trees.
Originally though, Advent was a period of fasting to accompany repentance and prayer leading to Christmas. The Council of Tours (567AD) instructed monks to fast daily in the month of December. Advent was referred to as a 'little Lent' for its similarity with Lenten fast and penitence. As it evolved, fasting would cease being a requirement for Advent but the component of repentance was retained. The sober Advent became a joyful preparation for Christmas.
Mary and Advent
How can Mary guide us in our Advent preparation?
• Mary invites us to prepare a room for the Lord Jesus. She urges all of us to look inward and allow Jesus, as he was born in the her womb, to be born in our hearts.
• She invites us to repentance and sanctifiication. Mary was immaculately conceived because God wants to prepare a clean womb for the baby Jesus. Christ's coming must also clean and purify our heart. His grace must melt and cleanse our hearts that have been hardened by hatred, unforgiveness, and evil.
• She invites us to commit ourselves to our Lord. She gave all her being when she said yes to God's invitation to become the mother of His Son. 'I am the handmaid of the Lord. Be it done to me according to your word.' With that, God's plan and purpose took over her mind and heart.
• She invites us to rejoice and be grateful. When Elizabeth exclaimed how blessed she is among women for being chosen as the mother of God, Mary burst into praise and thanksgiving, 'My soul magnifies the Lord, my spirit rejoices in God my savior, for he has looked with favor on the lowliness of his servant.' She is thankful for what the Lord has done to her. As a Stewardship parish, we should remember that the very basis of our spirituality is gratitude for all the wondrous things and blessings that come from Him. Look around and count your blessings, your family, your work, your daily sustenance. Thank God daily.
• She invites us to be generous. By saying yes to God, she shared all of herself. Her very person was at God's disposal, totally cooperating with God's grand plan of salvation. What can we give back to God as an offering when everything we have belongs to him? What are we willing to give of ourselves so that God can fulfill his plan for us? May our generosity build lives and bring a smile to other people especially the poor.
• Lastly, Mary invites us to pray. After the shepherds told her about the amazing things the angels told them about the baby Jesus, we are told that 'Mary treasured all these words and pondered them in her heart.' (Luke 2:19) At some point, we need to pause. Spend some time in prayer and just be in God's presence reflecting about our life.
Below is Saint John Paul II's prayer to the Blessed Virgin during Advent:
"May the Virgin Mary help us to open the doors of our hearts to Christ, Redeemer of man and of history; may she teach us to be humble, because God looks upon the lowly; may she enable us to grow in understanding the value of prayer, of inner silence, of listening to God's Word; may she spur us to seek God's will deeply and sincerely, even when this upsets our plans; may she encourage us while we wait for the Lord, sharing our time and energies with those in need.Mother of God, Virgin of expectation, grant that the God-who-comes will find us ready to receive the abundance of his mercy. May Mary Most Holy, 'Woman of the Eucharist' and Virgin of Advent, prepare us all to joyfully welcome Christ's coming and to celebrate worthily his sacramental presence in the mystery of the Eucharist."
My Personal Thanks
To end, allow me to offer you, the CTK community, my personal thanks for your generosity in helping finance the retirement house project of the Diocese, Casa de Silencio. We had a groundbreaking last August. Actual construction will begin soon after some design revisions and building permit issuance. We will still need more donations to complete the project, and we are relying on your continued support.
May the love and peace of Christ, our King, reign in your hearts and may Mary guide us in our Advent preparation!